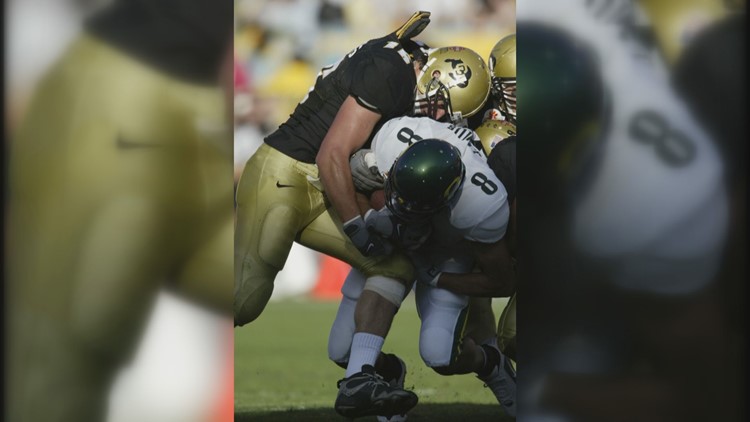 According to the coroner's reports, Drew Wahlroos never confirmed head injuries to family members.
A former University of Colorado and professional football player who took his own life in September had paperwork for the NFL Concussion Settlement program on his dining room table, 9Wants to Know has learned.
Drew Wahlroos was 37 when he shot himself in the chest Sept. 2 at his San Diego condominium after an argument with his girlfriend.
He left no note, according to reports filed by a San Diego coroner's investigator that were obtained by 9Wants to Know.
What they did find, on the dining room table in Wahlroos' home, was paperwork for the NFL Concussion Settlement, a $1 billion program that can provide former players with examinations, evaluation and treatment of injuries and diseases linked to repeated blows to the head – and, in some cases, large cash payments for specific neurological diagnoses.
Wahlroos played linebacker at CU from 1999 to 2002, then went on to play for the Amsterdam Admirals of NFL Europe before signing with the St. Louis Rams. He appeared in 21 games for the Rams in 2004 and 2005, mostly on special teams. He also played in two playoff games for the team.
According to the coroner's reports, Ed Wahlroos told investigators that his son "had never exhibited unusual signs of depression and never spoke of or alluded to suicide."
Ed Wahlroos also told investigators that his son "most likely sustained head injuries during his years of playing football" and that he had "encouraged him in January 2017 to sign up for an NFL-sponsored concussion study," according to coroner's reports.
The elder Wahlroos said he "had no actual proof" that his son had sustained head injuries but that he had assumed he did because of the positions he played. He also told investigators his son never told him he'd suffered a head injury, and Drew Wahlroos' girlfriend said he was "very private about his medical issues," according to coroner's reports
The NFL Concussion Settlement grew out of lawsuits filed by more than 4,500 former players who claimed they suffered a variety of ailments linked to head injuries. Originally set at $765 million, the fund eventually grew to $1 billion. It provides a neurological exam and cognitive assessment for any former NFL player who registered by the Aug. 7 deadline.
RELATED: NFL says number of concussions increased slightly in 2019
It also provides treatment for some ailments and specific cash settlements for some illnesses – up to $5 million for amyotrophic lateral sclerosis (Lou Gehrig's disease), $4 million for death in which the former player had chronic traumatic encephalopathy, $3.5 million for Parkinson's or Alzheimer's disease, $3 million for moderate dementia and $1.5 million for early onset dementia.
Ed Wahlroos told investigators he last saw his son on Aug. 17 – a little more than two weeks before his death – and that he appeared to be in good spirits.
He also told his father that he had signed up for the NFL concussion program, although they did not discuss what that entailed, according to the coroner's report.
After Wahlroos' death, his family donated his brain and spinal cord to Boston University's CTE Center for further study.
Chronic traumatic encephalopathy is believed to be caused by repeated blows to the head. It causes memory loss, confusion, depression and dementia – and the symptoms may not be noticed until years after the head trauma is inflicted. CTE was first identified in boxers nearly a century ago when fighters were described as being "punch drunk" or suffering from "dementia pugilistica." In recent years, families have donated the brains of hundreds of former football players to the center for study.
In one study earlier this year of the brains of 111 former NFL players, researchers at the center identified CTE in 110 of them.
The brain of former New England Patriots tight end Aaron Hernandez was also studied at the center after he killed himself earlier this year. Hernandez – at the time of his death serving a life sentence after a 2015 murder conviction – was judged to have a case of CTE more severe than had ever been seen in someone under age 40. Hernandez was 27.
Editor's note: This story was updated to reflect amended language in the San Diego County Medical Examiner's Department reports of Drew Wahlroos' death
Contact 9NEWS reporter Kevin Vaughan with tips about this or any story: kevin.vaughan@9news.com or 303-871-1862.
RELATED: Former WWE wrestlers take brain damage case to Supreme Court
SUGGESTED VIDEOS: Latest from 9NEWS Sports